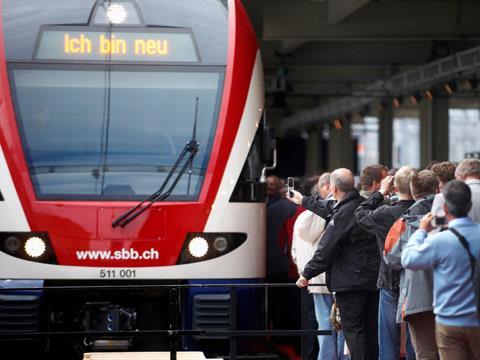 SWITZERLAND: The first of 29 Stadler Rail double-deck electric multiple-units for Zürich S-Bahn services was unveiled at Zürich Hauptbahnhof on June 3.
Participating in the handover ceremony were SBB Chief Executive Andreas Meyer, Economics Director of Zürich Canton Ernst Stocker and Stadler Rail CEO Peter Spuhler.
The 160 km/h six-car units will enter service from mid-2011. A further 21 are on order for use elsewhere in Switzerland, bringing the total value of the contract placed in June 2008 to SFr1·02bn.
The 150 m long 'Dosto RV' sets are the third generation of double-deck train ordered for Zürich suburban services. SBB said the latest 15 kV 16·7 Hz units offer wider aisles, more leg room and improved energy efficiency, particularly of the heating, ventilation and air-conditioning. They have112 first and 414 second class seats, and one of the two toilets is wheelchair accessible.