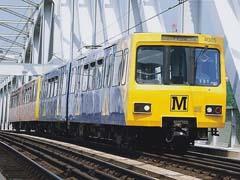 TYNE & WEAR Passenger Transport Authority has put in place the funding for Phase 1 of its 20-year Metro Re-invigoration programme.
Taking two years to complete, Phase 1 is costed at £56·1m. The UK Department for Transport has given 'initial approval' to a £14·3m scheme to replace 249 ticket vending machines and fit gates at 13 stations accounting for 75% of all passenger-journeys. Of this, DfT is to contribute £12·9m. Other works include a £6·9m package of improvements at Sunderland. Haymarket station is being rebuilt at a cost of £5m, funded by a private developer, while passenger transport executive Nexus and the EU are funding a new £3·2m station at Simonside.
Nexus will also fund a £6·3m overhaul of structures such as bridges and tunnels, and £3m of 'improvements' to the rolling stock. Finally, £17·4m is to be spent on an 'overhaul of infrastructure and technology'.
Under Phase 2 starting in 2010, Nexus is to invite bids for a nine-year concession to operate, renew and maintain the Metro. Investment totalling £255·3m is envisaged for this phase, including £15·7m to refurbish the 90 Metrocars, £14·5m to double the remaining single-track sections between Pelaw and South Shields plus £58·1m for station modernisation and £3m for park-and-ride facilities.
Communications equipment is to be upgraded at a cost of £53·6m, a further £28m is to be spent on the overhaul and maintenance of structures, and £43·3m has been allocated to overhauling track and overhead electrification equipment.
A new fleet of rolling stock costing £163·3m forms the biggest element of the £280·5m Phase 3 due to start in 2018. This also includes £39·6m for signalling replacement and funding for track and electrification renewals.