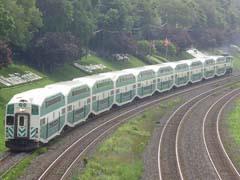 CANADA: Greater Toronto transport authority Metrolinx has signed a US$63m contract for MotivePower to supply 10 diesel-electric locomotives for use on commuter services from 2016.
Each locomotive is to be fitted with two engines meeting Tier 4 emissions standards, providing redundancy of major systems and the option to save fuel by using a single engine when hauling shorter trains. They will feature MotivePower's Central Diagnostic System, which provides remote diagnostic and monitoring capabilities.
The locomotives are to be assembled at MotivePower's factory in Boise, Idaho, with other Wabtec companies supplying control systems, event recorders, brake shoes, aftercoolers and radiators.
The contract announced on October 8 follows on from an August 2012 order for MotivePower to repower 11 Metrolinx MPXpress locomotives using two Cummins QSK60 engines in the same configuration.