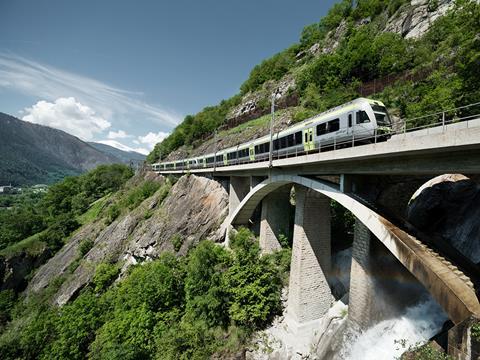 SWITZERLAND: Regional operator BLS is contesting the plans announced in April by the Federal Office for Transport (BAV) for the 10-year concession to run long-distance passenger services from December 2019. Under the proposals national operator SBB would run all Intercity routes and most of the so-called Basic Network, but the regional express routes from Bern to Biel and Bern to Burgdorf and Olten would be operated by BLS.
BLS responded on May 23, the last day of consultation, by stating that the proposal to operate just two routes was not viable. It welcomed the principle of opening up the long-distance market and suggested that competition would lead to a better overall service, but insisted that its plan to run five routes was a single package and that operating the Bern – Biel and Bern – Olten routes alone would not be economic. It therefore called for its proposal to be retained to run Intercity services from Basel to Interlaken Ost and Brig, the RegioExpress route from Bern to Neuchâtel and La Chaux-de-Fonds as well as the Bern – Biel and Bern – Olten routes.
Earlier, at a consultation hearing on May 4, SBB had responded to BAV's concession plans, proposals for adjustments to the structure of track access charges and other changes. It said that splitting operation of the long-distance network and making changes to the current complex but integrated public transport service would not benefit passengers and could potentially open the door to competition from large European railways to the detriment of small Swiss operators.
SBB warned that it would object to BLS being awarded part of the long-distance concession but said that it was open to discussions with both BAV and BLS. It suggested that other railways could be involved in co-operation agreements such as that envisaged with regional operator SOB, which from 2020 will run services over the historic Gotthard main line and between Chur and Bern via Zürich jointly with SBB.
The Federal Office for Transport is due to rule in mid-June on the final arrangements for the long-distance concession.