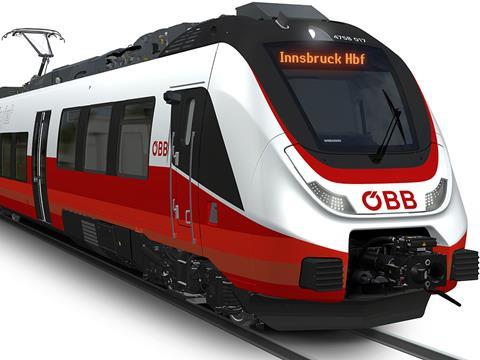 AUSTRIA: National operator Austrian Federal Railways has placed a €188m firm order for 25 six-car Talent 3 regional electric multiple-units, Bombardier Transportation announced on July 3.
The is the second order to be placed under a framework agreement for up to 300 Talent 3 units which was agreed in December 2016.
The first order covered an initial 21 units worth €150m for use in the Vorarlberg region. The latest order finalised on June 29 covers 19 units for use in Tirol from 2020, and six for use on cross-border services to South Tirol in Italy from 2021. There is an option for five more units.
'With this procurement, ÖBB is systematically continuing its fleet renewal', said ÖBB-Personenverkehr board member Evelyn Palla. 'This ensures both accessibility and a state-of-the-art standard of comfort for local and regional transport in Tirol.'
Christian Diewald, Head of Bombardier Transportation in Austria, said it was 'a huge gesture of trust for Bombardier and a great confirmation of the new Talent 3 regional train that ÖBB decided to purchase a second order before the first trains were even delivered'.