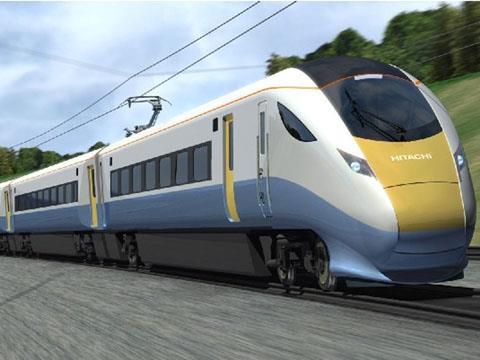 UK: Signing of the Intercity Express Programme contract to supply and maintain the next generation of 200 km/h inter-city trains was announced by the Department for Transport and Agility Trains on July 25. The overall package is valued at £4·5bn.
Financial close has been reached for IEP Phase 1, which covers the provision of 369 electric and 'bi-mode' vehicles for Great Western services. The bi-mode units will have underfloor diesel engines to operate on non-electrified routes, which DfT said 'is estimated to save around £200m' compared with using all-electric trains hauled by diesel locomotives beyond the wires. The diesel engines can be removed if electrification is extended in the future. Vehicles will be 26 m long.
In addition, commercial close has been reached for Phase 2, where financial close is expected in 2013. Phase 2 covers 227 vehicles for East Coast services, with an option for a further 270 cars.
Units
Cars/unit
Cars
Phase 1
Great Western
Financial close signed
Electric
21
9
189
Bi-mode
36
5
180
Total
57
369
Phase 2
East Coast
Financial close 2013
Electric
12
5
60
Bi-mode
10
5
50
Bi-mode
13
9
117
Total
35
227
Option
Electric
30
9
270
Availability-based contract
The Agility Trains consortium of Hitachi Rail Europe and John Laing Investments was named preferred bidder for the IEP contract in February 2009.
PwC has been lead financial advisor to DfT during the five-year procurement process, developing commercial aspects including daily performance obligations. The franchised train operators will pay Agility Trains set availability payments for each train that is available each day, while DfT is providing a 27½-year usage guarantee.
PwC devised a process to deliver £2·1bn of long-term project debt from European and Japanese lenders, which it said 'was challenging when capacity for long term project debt is shrinking due to the euro crisis'.
'In terms of deal size and value, the Intercity Express is without doubt the biggest privately financed passenger rolling stock deal in history, anywhere in the world', said Charlie Johnson-Ferguson of PwC's transport division.
UK assembly plant
The formal award of the contract means that Agility Trains can now proceed with the construction of an assembly plant at Newton Aycliffe in County Durham. Negotiations with the developer are in the final stages, and construction is expected to start in 2013 for completion in 2015. Hitachi will also locate its European rail research and development activities at the site.
'A new train factory is fantastic news for Britain and will be welcomed by everyone who wants to see a thriving UK manufacturing sector', said Transport Secretary Justine Greening. 'It means 730 new skilled jobs created at the factory, 200 jobs in constructing the plant and thousands of jobs secured in the supply chain.'
Hitachi will also construct maintenance depots in Bristol, Swansea, west London and Doncaster, and will upgrade existing depots elsewhere.
Routes
The Super Express Trains are due to enter revenue service on the Great Western Main Line in 2017 and on the East Coast Main Line by 2018.
Deployment will be the responsibility of the future franchisees, although DfT said the new trains could operate on the following routes:
Great Western from 2017:
London - Swansea
London - Oxford - Hereford
London - Gloucester - Cheltenham
London - Bristol
East Coast by 2018:
London - Leeds
London - Edinburgh - Aberdeen/Inverness
The contract has options for further sets, which could operate on the following routes:
Great Western:
East Coast:
Replacement of IC225 trainsets
London - Cambridge - King's Lynn
West Coast: