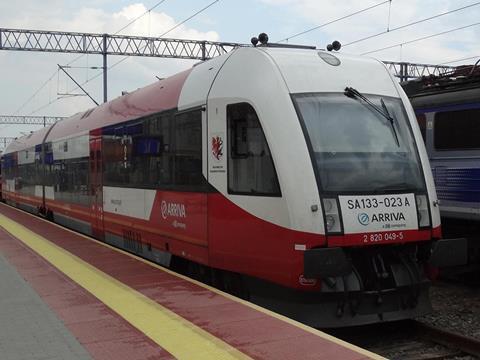 POLAND: Regulator UTK has granted Arriva's Polish subsidiary train paths for the operation of open access passenger services on several routes.
Arriva RP has secured paths until December 11 2021 for the operation of its existing summer-only seasonal service from Bydgoszcz Główna to Hel and a shuttle service along the Hel peninsula from Władysławowo.
The Deutsche Bahn subsidiary has also secured another seven paths for the phased introduction of new services, starting next year with the operation of a Szczecin Niebuszewo – Olsztyn service between September 1 2018 and August 31 2023, and a Wejherowo – Kielce Białogon service from December 10 2018 to December 9 2023.
Arriva RP plans to operate a Łódź Fabryczna – Szczecin Niebuszewo service from September 1 2019 to August 31 2024, as well as a Wrocław Główny – Zielona Góra – Szczecin Niebuszewo service. Paths for Wejherowo – Katowice, Łódź Fabryczna – Chełm and Wejherowo – Chełm services have been secured from December 14 2019 to December 13 2025.
However, UTK declined Arriva RP's application for paths from Warszawa Wschodnia to Poznań Główny, Kraków Główny and Łódź Fabryczna, as the regulator felt these would replicate subsidised service operated under public service obligation contracts. An application for Wrocław Główny –Poznań Główny – Szczecin Niebuszewo train paths was rejected owing to ongoing and planned modernisation works limiting the available capacity on the route.
Arriva plans to appeal against the rejections, as it believes the routes would be necessary to create a coherent network.