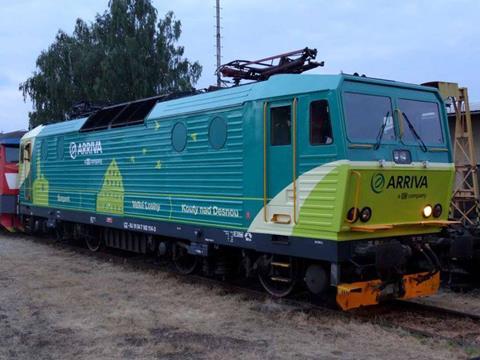 CZECH REPUBLIC: Arriva Morava launched regular electric services on the 19 km Železnice Desná regional line between Šumperk and Kouty nad Desnou on June 13. This follows a 3 kV DC electrification project which was completed in November 2015 at a cost of KC377m, co-funded by the European Union.
There are five daily electric return services, with the remaining services still operated using ŽD's four Class 810/814.2 DMUs. Arriva is using a Class 162 electric locomotive leased from open access operator RegioJet which has received an interim Arriva livery, and two Bimdz coaches from parent company Deutsche Bahn which have been overhauled by DYKO Kolín and retain their DB livery but with ŽD branding.
The regional line was taken over by a group of local authorities in 1997 after ČD declined to repair flood damage. Veolia Transport Morava took over operations under contract in October 2002, and was bought by DB-owned Arriva in May 2013.
It had been planned that national operator ČD would operate the electric services under a directly-awarded 10-year contract, using Škoda Transportation Class 640 RegioPanter EMUs, but an agreement on the service pattern and finances was not reached in time. ČD is now expected to take over with the December 11 timetable change.