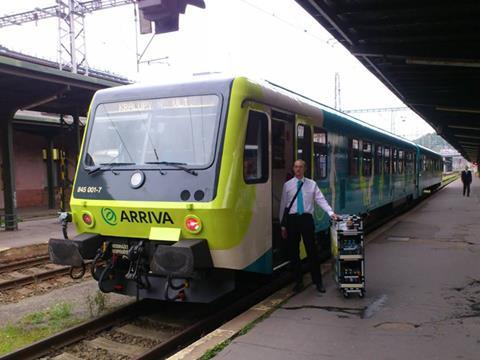 CZECH REPUBLIC: After a year of planning, on September 23 DB subsidiary Arriva Vlaky launched an unsubsidised passenger service on the 26 km Praha Masarykovo - Kralupy nad Vltavou route, competing at its own risk against national passenger operator CD.
There are initially eight return semi-fast trains a day, calling at Praha-Bubenec, Rez and Libcice nad Vltavou. Although the line is electrified, Arriva is using an ex-DB Class 845 two-car DMU which Pars nova Šumperk has repainted and refurbished with 143 seats supplied by Borcad.
A single ticket costs KC34 compared to KC44 for CD, although the national operator offers a range of discounts. Tickets can only be bought onboard, and passengers are offered free wi-fi, refreshments for purchase and city transport tickets.
Arriva is using the service as a pilot for planned expansion into the provision of subsidised services, with the Ministry of Transport due to call tenders for the operation of Pardubice - Liberec, Liberec - Ústí nad Labem and Plzen - Most services by the end of the year. Arriva has announced it is considering the use of DB Class 610 tilting trains on these routes.
Arriva had planned to launch passenger services on the 81 km Kralupy nad Vltavou - Praha - Benesov route from the December 2012 timetable change, but this was postponed. Following the acquisition of Veolia Transport Central Europe, it also operates the Šumperk - Sobotín/Kouty nad Desnou line on behalf of Zeleznice Desná through its subsidiary Arriva Morava.
On October 1 tourist, heritage and freight train operator KZC Doprava is to launch passenger services on the 19 km Praha Masarykovo - Cakovice route, using four Class 810 diesel railbuses bought from Slovak national operator ZSSK. Praha transport authority Ropid will pay a subsidy of KC104·7 per train-km.