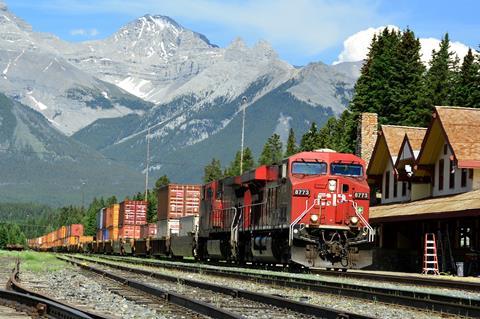 CANADA: Alberta's Ministry of Transportation has signed a memorandum of understanding with Canada Infrastructure Bank to investigate the feasibility of introducing a passenger rail service between Calgary and Banff, which were last linked by regular inter-city trains in January 1990.
The proposal envisages the construction of dedicated tracks within the existing Canadian Pacific Railway corridor, with the 130 km route serving six stations at Calgary International Airport, Downtown Calgary, Cochrane, Morley, Canmore and Banff. There would be up to eight trains per day from the airport to Banff, supporting commuting and tourism, and the promoters suggest there would also be capacity to run a train linking the airport and central Calgary every 20 min.
The Banff National Park attracts 4 million visitors a year. 'The potential for a beautiful passenger rail service running through the Rocky Mountains poses a tremendous opportunity to attract international visitors and grow our tourism economy here in Alberta and is an opportunity I am extremely excited about', said Miranda Rosin, who represents Banff-Kananaskis in the province's legislative assembly.
'The Calgary – Banff Rail project would create a new transportation option from Calgary International Airport to one of our national treasures', said Canada's Minister of Transport Marc Garneau on June 9. 'A sustainable and commuter-centric transport system is essential to serve the growing travel demands of both tourists and Albertans alike. The new rail service would take cars off the road and increase the mobility of visitors and commuters to the park in a stress-free way.'
The provincial government proposes to structure the project as a public-private partnership, in order to 'attract investment, transfer risks and drive performance'.
CIB will fund the study, and collaborate with the province to review estimated costs and revenues, explore the financing options and assess the environmental, social and economic benefits prior to any potential investment decision.
'An important part of CIB's role is to work closely with governments across Canada to advance new infrastructure opportunities', said CIB Chair Michael Sabia. 'The Calgary – Banff Rail project is the first of many potential projects for CIB in Alberta.'