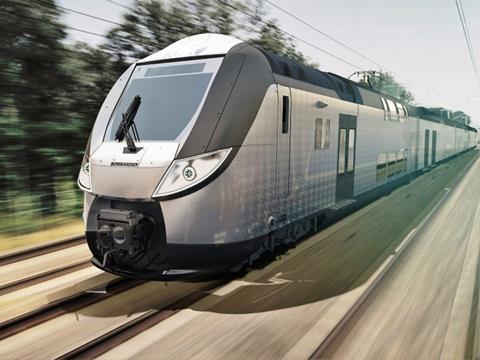 FRANCE: The Centre-Val de Loire region has ordered a fleet of 32 double-deck EMUs from Bombardier to operate 200 km/h inter-city services on three TET routes. The Omneo Premium trainsets are expected to enter service from 2020, with all in traffic by 2022.
Placed by SNCF Mobilités on behalf of the region, the €375m order follows the signing of an agreement with the French government in January 2017 under which Centre-Val de Loire would take over responsibility for managing the Trains d'Equibilibre du Territoire inter-city services on the Paris – Orléans – Tours, Paris – Bourges and Paris – Montargis – Nevers routes, which had previously been supported centrally.
The Omneo Premium is an inter-city variant of the Regio2N family developed and built at Bombardier's Crespin plant in northern France, offering a maximum speed of 200 km/h and a higher level of comfort to meet the requirements of long-distance passengers. Centre-Val de Loire is the second region to order the type, following a previous order for 40 sets to operate TET services in Normandie.
The 110 m long eight-car units will provide a total of 373 seats in first and second class, with large luggage racks, dynamic passenger information screens, a dedicated area for two wheelchairs and space for nine bicycles. The trains will be able to operate multiples of two or three on busy services. According to Bombardier, the interior design, colour scheme and configuration 'will be fine-tuned in the coming months in co-operation with the client'. The trains will feature a newly developed wide seat with integrated lighting, power sockets and wi-fi.
The trains have been ordered within a framework contract awarded to Bombardier by SNCF in 2010 covering the supply of up to 860 double-deck units. To date, 10 regions have called off a total of 373 trainsets for suburban, regional and inter-city services. As well as the 32 inter-city sets for Centre-Val de Loire and 40 for Normandie, Auvergne-Rhône-Alpes has ordered 40 Regio2N units, Bretagne 26, Centre-Val de Loire 14, Hauts-de-France 25, Ile-de-France 125, Nouvelle Aquitaine 24, Occitanie 18, Pays-de-la-Loire 13 and Provence-Alpes-Côte d'Azur 16.
'This order from the Centre-Val de Loire region confirms the demand for spacious, modern, comfortable trains for inter-city journeys', said Laurent Bouyer, President of Bombardier Transport France. 'Such a high-tech project highly contributes to the French rail industry at large.'