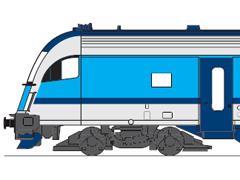 CZECH REPUBLIC: National passenger operator CD finally approved the purchase of a reduced batch of seven 230 km/h Viaggio Comfort seven-car push-pull trainsets from Siemens Mobility on August 16.
They are to be deployed jointly with Austrian Federal Railways on the Praha - Brno - Wien - Graz route from the 2013-14 timetable change.
CD first signed a €200·5m deal for 16 trainsets with ÖBB and Siemens on September 30 2011. CD was to take over an no longer needed option in ÖBB's original contract for Railjet branded trainsets. The agreement had been announced in mid-June 2011, but signing was delayed by three months following a legal challenge by Škoda Transportation, which questioned the deal's transparency.
The trainsets were to have been deployed on EuroCity services on the Hamburg - Berlin - Praha - Wien - Graz corridor, hauled by CD's Class 380 (Škoda 109E) multi-voltage electric locomotives.
CD said it was essential to have long-term agreements with both DB and ÖBB to guarantee the trains' full deployment, and therefore insisted on an exit clause in case it decided not to proceed. In this way, CD endeavoured to prevent a repeat of the situation with its Class 680 Pendolino trains which, although being three-voltage and capable of 230 km/h, are now operated solely on domestic services under 3 kV DC.
Further negotiations with DB resulted in a March 28 2012 amendment to the contract, changing the order to eight eight-car and seven seven-car sets with more first class seats instead of premium class. However, one month later CD backed out, following DB's announcement that it had selected private operator RegioJet rather than CD as its partner for the operation of cross-border EC services from December 2013.
Shortly afterwards, continuing interest from both CD and ÖBB for a joint collaboration on international services led CD to resume talks with Siemens, and these resulted in a modified contract worth €100m for just seven sets, which will enter service on the Praha - Wien - Graz route from December 2014. CD will operate 70% of services on the route, with the remaining 30% in the hands of ÖBB. Premium class will be retained to match the ÖBB rakes. Haulage is likely to be by Siemens-built Class 1216 locomotives leased from ÖBB, as unlike the Class 380 these are already approved for use on the SŽDC network.
The trains are being acquired under the September 2011 contract. CD is now examining the possibility of taking up the option for the remaining eight eight-car sets at a later date, as a decision must be made by mid-2013 to secure uninterrupted production. Negotiations are underway with Slovak and Hungarian passenger operators ZSSK and MÁV-Start for deployment of the trains on the Praha - Bratislava - Budapest route.
Meanwhile, DB has asked CD to continue operation of Praha - Hamburg EuroCity services until December 2014, with RegioJet's involvement being postponed by a year owing to a lack of rolling stock and the complexity of the funding model.