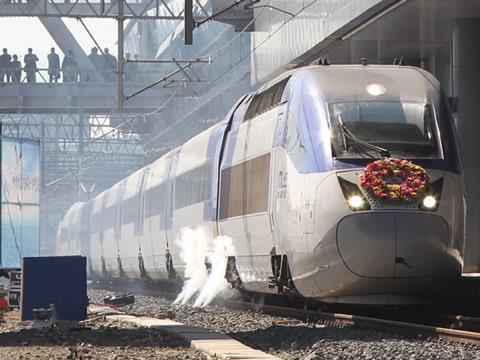 SOUTH KOREA: Passenger services on the 129 km Daegu - Busan second phase of the high speed rail network began on November 1, following the formal inauguration and celebrations on October 28.
Construction of the 420 km high speed route between Seoul and Busan began in 1992. In 1998 it was decided to split the project into two phases.
The initial 224 km Seoul - Daegu section opened in April 2004, with the 118 km conventional line to Busan being electrified to enable KTX services to continue to the city at lower speeds. This cut the Seoul - Busan journey time from more than 4 h to 2 h 40 min, triggering a 43% increase in the average number of daily passengers.
Completion of Phase 2 at a cost of 7 945bn won has cut Seoul - Busan journey times by a further 22 min. The high speed line runs via Ulsan and the important tourist destination of Gyeongju, and is expected to lead to an increase in day trips to and within the southeast of the country as well as growth in long-distance commuting.
A further 41 km of high speed infrastructure in central Deajon and Daegu will be competed by 2014.