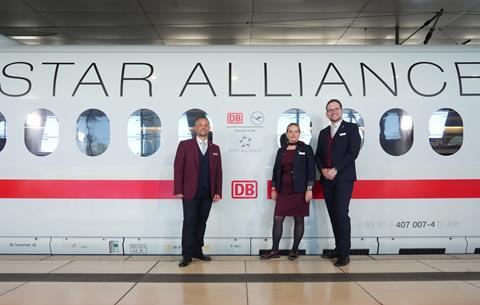 GERMANY: Deutsche Bahn is to become the first Intermodal Partner of the Star Alliance on August 1, in a move which the train operator and group of airlines said sends a 'strong signal for the environmentally-friendly evolution of the travel industry'.
The Intermodal Partner model aims to 'intelligently' combine airlines with rail, bus, ferry and other transport ecosystems, linking loyalty schemes and 'facilitatating seamless transit'. Star Alliance plans to expand intermodal partnerships in the future.
Its member airlines will be able to include DB's ICE trains as flight numbers in their booking engines, with customers benefiting from combined tickets for flights and train journeys, points or miles from combined bookings, and priority baggage handling at Frankfurt Airport.
'From Freiburg to Singapore: you only need one ticket', said Dr Michael Peterson, DB board member for Long-Distance Passenger Transport. 'With attractive intra-German connections and simultaneous links to international travel chains, Deutsche Bahn and Star Alliance are making a significant contribution to reducing CO2 emissions in the transport sector.
'The new partnership complements our successful co-operation with Lufthansa Express Rail, where the number of bookings has more than doubled since 2010.
'This is how we get more people off the plane and onto the environmentally friendly rail.'
Star Alliance airlines: Aegean Airlines, Air Canada, Air China, Air India, Air New Zealand, ANA, Asiana Airlines, Austrian, Avianca, Brussels Airlines, Copa Airlines, Croatia Airlines, Egyptair, Ethiopian Airlines, EVA Air, LOT Polish Airlines, Lufthansa, Scandinavian Airlines, Shenzhen Airlines, Singapore Airlines, South African Airways, Swiss, TAP Air Portugal, Thai, Turkish Airlines and United.