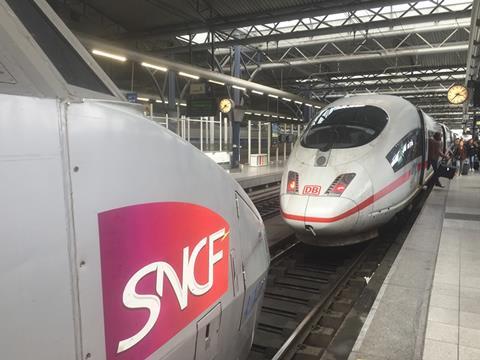 EUROPE: Deutsche Bahn has expanded the range of cross-border and foreign rail tickets which can be booked through its website and mobile app.
Passengers can now book travel on SNCF and Thalys services, and Eurostar is to be added from October 8. Until now only selected connections were offered for booking online or at DB travel centres.
Long-distance Trenitalia and Austrian Federal Railways services have been offered since the beginning of the year, and the system has now been expanded to include ÖBB night trains starting or ending in Germany, including for domestic travel within Germany.
'With the expansion of international bookings, we fulfil one of the most frequent customer requests', said Mathias Hüske, head of DB Vertrieb's Digital Business, on October 2. 'We are convinced that our improved offer will enable even more people to choose Deutsche Bahn as a comfortable and environmentally-friendly means of transport when travelling to other European countries'.
SNCF and Amadeus have signed an agreement to provide travel agencies outside Europe with access to SNCF, Thalys and Eurostar products from January 2019. 'Overseas customers are a growing market for TGV; traveling with high speed trains is regarded as an unmissable experience Europe', said Fabien Soulet, SNCF Director of Business Travel, Corporate & Travel Agencies. 'Amadeus will help us to increase our reach in these regions, this is an exciting new feature of our partnership.'