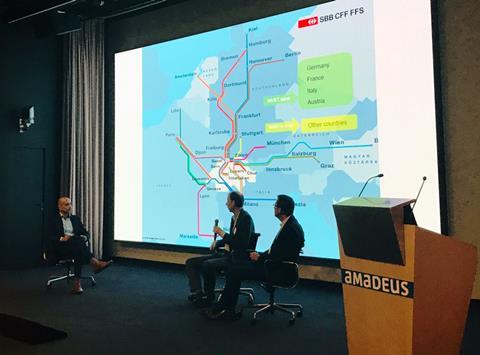 INTERNATIONAL: Assertions that long-distance rail services in Europe are rapidly becoming more popular as passengers eschew flying for environmental reasons were amply confirmed at the Rail Innovation Forum organised by Amadeus at its head office near Nice on October 9-10. Speakers from across the travel industry highlighted the trend, although train operators were quick to point out that providing extra capacity to meet rising demand was not a simple matter.
Matthias Blume of Swiss Federal Railways said there was 'a real renaissance', with 'a big increase' in people using night trains to and from Switzerland. Citing a 26% rise year-on-year in the first quarter of 2019, he noted that 'the most popular routes are very booked up, making it very hard to get a booking. It's good news for us, but it brings the challenge of providing capacity. Increasing rail service capacity is quite a bit harder than just using another plane, and the inertia in the system is very big.'
Mirja Sickel, Executive Vice-President, Rail & Ground Travel at Amadeus, reported a 12% increase in rail travel and a 4% fall in air traffic in Sweden, where the flygskam anti-flying movement originated. Across Scandinavia, the overall fall in flight bookings was 10%, according to Amadeus Travel Channels President Decius Valmorbida.
Deutsche Bahn recorded long-distance travel rising by 1∙3% year-on-year in the first six months of this year, with a record 71∙8 million passengers using its ICE and IC services. Mario Vidumen of DB Vertrieb said he was 'very happy about any new passengers who choose rail instead of flights', pointing out that DB intended to acquire 30 more high speed trains in the short term to handle increased demand.