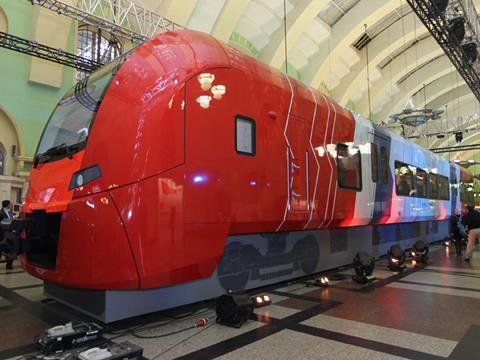 RUSSIA: A full-scale mock-up of Russian Railways' new Lastochka electric multiple-unit was unveiled for public consultation at Moscow's Kazansky station on October 1. Passengers are invited to comment on various aspects of the design, including the livery, lighting, seating layout, comfort and information displays.
A derivative of the Siemens Desiro family, Lastochka ('Swallow') is destined to form the basis of the next generation of Russian suburban EMUs. 'The standard green electric trains that we are used to have become outdated, and we plan to gradually replace them', explained RZD President Vladimir Yakunin.
Under a €410m contract signed in December 2009, Siemens is supplying an initial build of 38 EMUs to operate services around Sochi. The first is expected to arrive in February, and all 38 are to be delivered by October 2013 ahead of the 2014 Winter Olympic and Paralympic Games in Sochi. As well as the Olympic services, the trains will also be used on other lines in central and southern Russia.
The dual-system 160 km/h EMUs are being built at Siemens' Krefeld-Uerdingen plant in Germany. Each five-car set will carry up to 850 passengers.
A further 16 sets are to be assembled locally with at least 35% Russian content under a follow-on contract signed at InnoTrans on September 21. These additional trains are due to be handed over to RZD by the end of 2014.
Unveiling the mock-up, Yakunin announced that an agreement has been reached with Siemens on future joint production, which envisages the delivery of 1 200 vehicles by 2020. The technology transfer agreement provides for a steady increase in the degree of localisation, which should reach 80% by 2017.