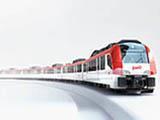 RUSSIA: Siemens is to form joint ventures to supply 240 electric multiple -units and modernise 22 marshalling yards under memoranda of understanding signed when German Chancellor Angela Merkel met Russian President Dmitry Medvedev for talks in Yekaterinburg on July 15.
The agreements were signed by Siemens President & CEO Peter Löscher and RZD President Vladimir Yakunin. Further memoranda cover wind turbine technology and establishing an energy efficiency research centre, taking the total value to 'several billion euros'.
Siemens and RZD subsidiary Aeroexpress are to jointly produce and service 1 200 'Lastochka' Desiro RUS EMU cars for suburban services in major cities. A decision on the location of the manufacturing plant will be taken shortly, and contracts are expected to be signed in spring 2011 with deliveries running for 10 years from 2012. The trains will be based on the Desiros which Siemens is to supply from Germany for the 2014 winter Olympic Games in Sochi under a contract signed in 2009.
A joint venture between Siemens, RZD and the All-Russian Railway Research Institute will modernise 22 marshalling yards with a total of 34 humps by 2026. Local content will eventually reach 80%.
Siemens is intensifying its focus on production in Russia, having announced an agreement in May to produce 221 locomotives in a 49:51 joint venture with Sinara Transport Machines.
Yakunin said the joint projects RZD is undertaking with Siemens are 'of a strategic nature in both their depth and scale', adding that RZD and Siemens 'are ready to step up co-ordinated activities to boost our presence on the market of transport and logistics services and machine-building production in Europe and Asia.'