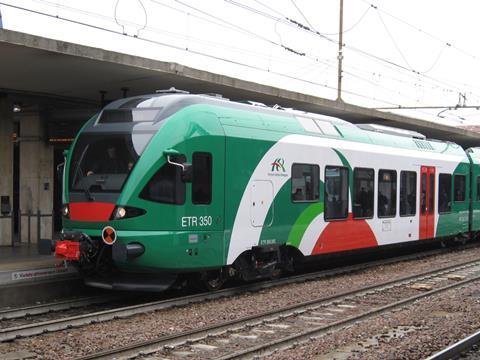 ITALY: The Emilia Romagna region has awarded a contract for the operation of regional passenger rail services to a joint venture of its locally-owned transport operator Trasporto Passeggeri Emilia Romagna and national passenger train operator Trenitalia.
The 1 400 km network includes lines owned by national infrastructure manager RFI and by local company FER. There are 263 stations, and 900 daily services carrying more than 42 million passengers/year.
The contract is to start in 2018, to give the joint venture time to set up a new company and procure 96 additional trainsets. It will then run for 15 years, with an option to extend to 22½ years.
Investments of €750m are planned. The region will pay the joint venture €153m to operate 18 million train-km and 1·2 million bus-km in the first year, an increase on the current €120m. In return, it requires improvements to service quality and new rolling stock to be used on half of all services.
Following a European call for tenders, the joint venture and Arriva Italia Rail prequalified to bid for the contract. However, Arriva chose not to submit an offer. The joint venture's technical offer met the requirements, but its financial offer opened in February exceeded the budget set, and further negotiations were held before the contract was finalised on July 2; Arriva was invited to participate in the negotiations, but declined.
Emilia Romagna's Minister for Transport & Infrastructure Raffaele Donini said it was the first time an Italian region had tendered services in this way. Awarding the contract had been a learning experience with a positive result which would bring changes to the quality and efficiency of services, he felt.