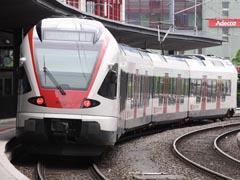 EUROPE: Plans for a direct rail connection to EuroAirport Basel Mulhouse Freiburg and the extension of Swiss regional services across the border to Mulhouse in France are included a memorandum of understanding which was signed by SBB, SNCF, the region of Alsace and the cantons of Aargau, Basel-Landschaft and Basel-Stadt on May 29.
The cross-border service would use SBB Stadler Flirt EMUs, subject to gaining approval for operation in France, eliminating the need for passengers to change trains in Basel.
EuroAirport is located within France but close to the Swiss border, and serves the cities of Basel, Mulhouse and Freiburg in Germany. The estimated €220m cost of a new 6 km loop and station to serve the airport would be divided between the three countries. Consultation on has now begun, with a view to opening in 2017-18.
According to SBB, more than 35 000 people a day cross from Alsace into Switzerland, with 10% using public transport.
Around 5·05 million passengers used EuroAirport in 2011.