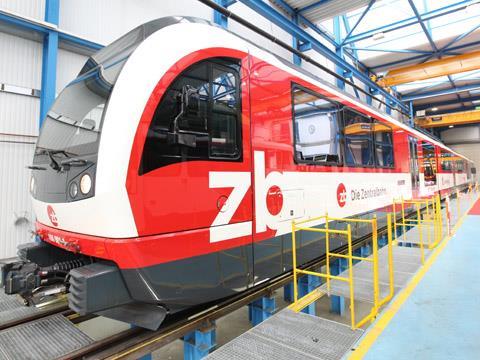 SWITZERLAND: The first of 10 electric multiple-units for the metre-gauge Zentralbahn was rolled out at Stadler Rail's Bussnang plant on February 15. The manufacture says the SFr141m contract signed in September 2009 is largest ever order for rack-and-pinion rail vehicles.
The order covers two types of 120 km/h air-conditioned EMU. The first unit to be completed is one of six three-car FINK (flinke, innovative niederflur-komposition; fast innovative low-floor train) sets for local services from Luzern, with 139 seats including 18 in first class.
These will be followed by four seven-car ADLER (Alpiner, dynamischer, leiser, eleganter, Reisezug; Alpine dynamic quiet elegant train) trains for InterRegio services between Luzern and Interlaken Ost. These will have 307 seats, 74 in first class, electric seat reservation systems and a bistro.
The styling of the trains is intended to create a 'dynamic, elegant and sporty' impression, and they feature panoramic windows for scenic views. The suburban FINK units are expected to begin entering service from June, when the first ADLER set will be delivered for testing.