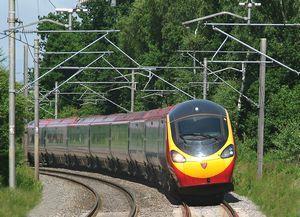 UK: First West Coast Ltd has been selected to operate inter-city services on the West Coast Main Line between London, Birmingham, Manchester and Scotland for up to 15 years, Transport Minister Theresa Villiers announced on August 15.
Running for 13 years and 4 months from December 9 2012, with an optional extension, the replacement franchise offers a net present value of £5·5bn according to the Department for Transport.
FirstGroup was selected ahead of bids from incumbent operator Virgin Rail Group, which has run the franchise since 1997, Netherlands Railways' subsidiary Abellio and a SNCF-backed bid from Keolis.
The first in a series of longer passenger train operating franchises now being tendered, the West Coast contract is intended to be 'less prescriptive', whilst 'retaining obligations that protect the key elements of service, such as principal first and last trains and minimum numbers of station stops per week and per day.' It will include passenger satisfaction targets for the first time in an inter-city franchise.
First West Coast will initially operate the existing timetable, but is proposing to introduce additional services from London Euston to Blackpool in 2013 and London to Telford, Shrewsbury and Bolton from 2016. As part of this plan it intends to procure 11 additional six-car electric trainsets, which are likely to be shorter versions of the Class 390 Alstom Pendolino sets that are now being lengthened from nine to 11 cars. Taking over Birmingham - Scotland services, these 200 km/h sets will release some of the five-car Bombardier Class 221 SuperVoyager DEMUs to increase capacity elsewhere.
FirstGroup CEO Tim O'Toole said 'the longer franchise period means we can invest £350m over the first five years ... to realise the huge potential of the West Coast route'. London - Glasgow journey times will be cut by up to 15 min, with punctuality to be improved through the creation of a new alliance with Network Rail.
Despite committing to significantly higher premium payments than the £160m paid by Virgin West Coast in 2011-12, reportedly rising to £735m in 2026, FirstGroup has agreed to cut its 'Standard Anytime' fares by an average of 15% within the first two years. It will also take over responsibility for maintenance at 17 stations and spend at least £22m on station improvements. First West Coast will also be obliged to introduce smart card ticketing based on the government's preferred ITSO platform.
Describing the government's decision as 'extremely disappointing', Virgin Group founder Sir Richard Branson insisted that the incumbent operator had 'submitted a strong and deliverable bid', and pointed out that bidding on over-optimistic premium profiles had led to the collapse of the Inter-City East Coast franchise on two occasions.
Branson added that 'this is the fourth time that we have been out-bid in a rail tender. On the past three occasions, the winning operator has come nowhere close to delivering their promised plans and revenue, and has let the public and country down dramatically. Insanity is doing the same thing over and over again and expecting different results.'
Noting that Virgin Group had spent £14m on its latest bid, he said that 'based on the current flawed system, it is extremely unlikely that we would bid again for a franchise. The process is too costly and uncertain.'