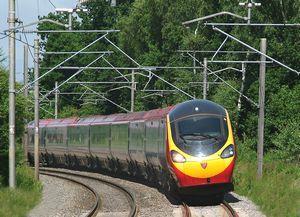 UK: On October 27 the Department for Transport announced an eight-month extension of the franchise to operate InterCity West Coast services which is held by Virgin Trains.
Virgin Trains is a joint venture of Virgin Group and Stagecoach, and its franchise will now run to December 9 2012, rather than March 2012.
'When this extension expires in December 2012, the government will have completed a competition for a new operator to run services on the line under a new longer style of franchise which gives the operator more incentive to invest and more freedom to innovate and deliver for passengers', said Transport Minister Theresa Villiers.
DfT expects to issue final invitations to tender in January for the 15-year franchise. This will run to March 31 2026 with an optional 20-month extension; the shortlisted bidders are Abellio, FirstGroup, Keolis/SNCF and Virgin.
Additional Alstom Pendolino cars are on order, Villiers said, 'but in the longer term, even with these improvements, the route is expected to be full by 2024. This is why we are considering proposals for a high speed rail line between London, the West Midlands, Manchester, Leeds and potentially beyond'.