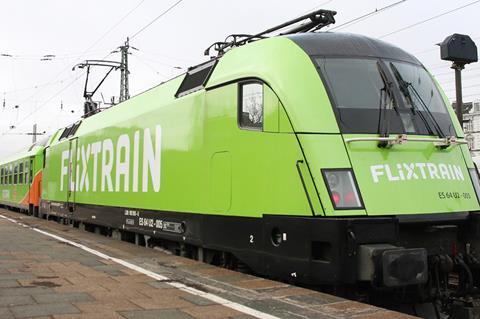 FRANCE: FlixMobility GmbH has decided to postpone indefinitely its plans to launch open access passenger train services on five inter-city routes in France.
The company had announced in June last year that FlixTrain-branded services would run on four French domestic routes, as well as between Paris and Brussels via St Quentin, starting in January 2021.
FlixMobility said that its decision to halt the plans was based on the cost of access fees, which it considered to be too high in the current context. This was a key finding in a 10-month market study completed in March and the decision was reached without considering the impact of Covid-19, although the pandemic clearly obliged the company to act with great care, the company indicated.
'The result of this assessment was that conditions for new market entry are, at this point in time, not favourable for operating a FlixTrain service in France. FlixTrain will therefore not submit an application (for paths) in 2021', it said.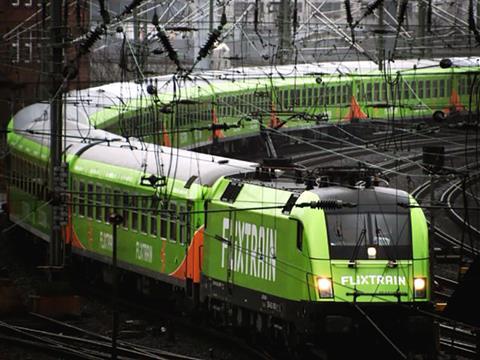 Yvan Lefranc-Morin, FlixBus Director-General in France, told AFP that the cost of infrastructure access in France compared with other countries was 'the main obstacle'. 'With such high costs, it seems to us that it is simply not feasible for a new entrant to offer users an affordable rail service similar to that which Flixtrain provides in Germany'.
Lefranc-Morin nevertheless suggested that if access fees to routes and stations were to be reduced, the company would look again at the possibility of FlixTrain launching in France in the future.
'If French decision-makers can demonstrate a willingness to align with other European markets and conditions improve, FlixTrain is open to reconsidering a French expansion', the company asserted.
Given the added uncertainty caused by Covid-19, 'FlixTrain does not want to speculate about a timeline for French expansion. It's first necessary to focus on removing obstacles and ensuring favorable conditions for private operators as the country liberalises'.
FlixTrain services would have competed head-on with national operator SNCF. Plans envisaged using locomotive-hauled stock to operate seven return trains a day between Paris Nord and Brussels Nord, two daily return trips between Paris Austerlitz and Bordeaux St-Jean via Les Aubrais-Orléans and Angoulême, five round trips a day between Paris Bercy and Lyon Perrache via Dijon, and two between Paris Bercy and Toulouse Matabiau via Limoges; an overnight train in each direction between Paris Bercy and Nice Ville via Marseille Blancarde was also in the plans.
Passengers made a record 10∙5 million journeys on FlixBus long-distance bus services in France during 2019, a rise of 43%; in February this year the company launched weekly and bi-weekly direct services between France and Morocco via Tanger.