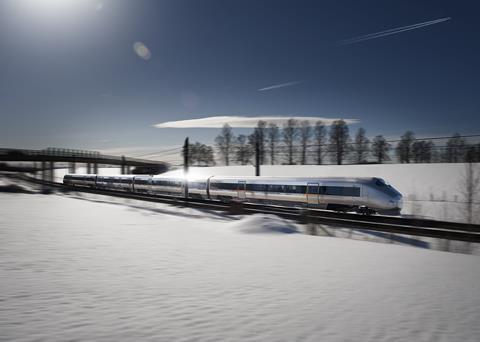 NORWAY: Oslo Gardermoen Airport rail link operator Flytoget is seeking expressions of interest in a contract to supply eight trainsets worth an estimated NKr1•5bn. These would be in addition to the existing electric multiple-units which have been in operation for 17 years.
The new stock is required to have a maximum speed of at least 220 km/h. The EMUs would be up to 110 m long, with a minimum of 236 seats and access for persons with reduced mobility.
The contract would include an option for up to six additional trains in batches of two, and for supporting a separate upgrade of the existing styling and interiors of the existing EMUs to give passengers the appearance of a uniform fleet.
An industry day for potential suppliers is to be held on March 20, and Flytoget expects to award the contract in December. The first trainset is required to be ready for testing in August 2016, ready for the opening of the airport's Terminal 2.
Flytoget says it operated 20% of all train departures in Norway last year. Passenger-journeys grew by 8% to 6•5 million, with revenue of NKr897m and a pre-tax profit of NKr230m. The airport is predicting annual passenger growth of 3•4%, while the use of larger aircraft means Flytoget expects to see 'a major increase' in the number of passengers travelling during peak periods.
'We are witnessing, with great joy of course, that those who live along the Flytog Airport Express Train route increasingly are travelling with us', said Bernander Stilseth. 'For us it is crucial that they receive a service which is a true alternative to travelling by car, which still is our main competitor.'