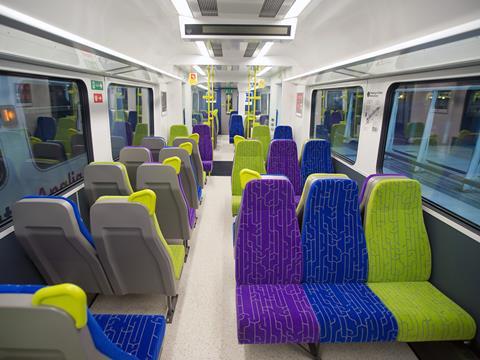 UK: The Abellio Greater Anglia subsidiary of Dutch national operator NS is to continue operating passenger services between London Liverpool Street and eastern England under a new 27-month franchise agreement announced by the Department for Transport on April 16.
The short-term direct award franchise runs from July 14 2014 to October 16 2016. DfT plans to hold a competition next year to award a longer-term Great Anglia franchise.
The short-term agreement features a £20m package of improvements which includes:
A 'major refresh' of MkIII coaches operated on the Norwich – London route, which are to receive new power sockets, carpets, seat covers and lighting;

Fitting controlled-emission toilets to the MkIII fleet and Class 321 electric multiple-units;

Accessibility improvements to 12 Class 321s 'as a precursor to further rolling stock improvements which would be agreed as part of the next Greater Anglia franchise'. Abellio will also work with fleet owner Eversholt Leasing to evaluate options for starting refurbishment of a small number of Class 321s before the end of the short-term franchise;

New off-peak weekday Cambridge – Stansted Airport services from July 2014, and enhanced Sunday services on the routes to Sheringham, Sudbury and Lowestoft from 2014-15;
New on-line compensation arrangements for season ticket holders;

Additional cycle parking spaces, with all stations to have cycle parking by October 2016;
A 20% increase in funding for Community Rail Partnerships;
Completion of station upgrades at Bishop's Stortford, Cambridge and Chelmsford.
'This deal delivers much-needed and very welcome service improvements for passengers who have already experienced the limiting effects of one short-term franchise', said Abellio UK Managing Director Dominic Booth.
'The extension also sets the course for future development', he added. 'We look forward, therefore, to starting a dialogue with stakeholders soon about the requirements for the long-term franchise, and the investments required to create a rail service that will unlock and support the long-term economic development of this important part of the country.'
Abellio has dismissed media reports that it is to end its strategy of bidding for rail operating contracts outside the Netherlands. The company says that it will submit its bid for the ScotRail franchise on April 17, is awaiting the outcome of current bids for the Thameslink, Southern & Great Northern and Essex Thameside franchises, and will 'continue to assess opportunities in the UK, Sweden and Germany.'