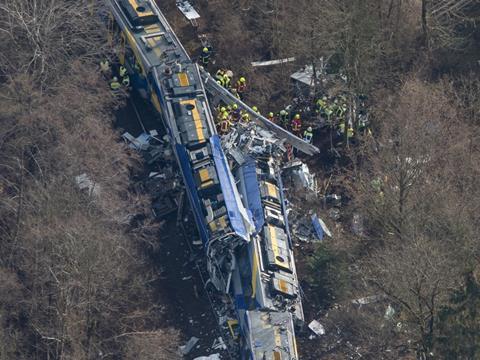 GERMANY: A 'human error with disastrous consequences' led to the fatal train crash near Bad Aibling on February 9, Bayern's state prosecutor Wolfgang Giese has confirmed. Killing 11 people and injured another 80, the head-on collision between two Flirt EMUs on a single-track line was the worst railway accident in Bayern for more than 20 years.
At around 06.45, the three-car Meridian train 79506 from Rosenheim to Holzkirchen collided with its six-car eastbound counterpart 79505 on a curved section of line in a wooded area. Information recovered from the data recorders showed that one train was running close to the line speed of 100 km/h and the other at more than 50 km/h. There was little evidence of braking, suggesting that the drivers may not have seen the other train until the last moment. Despite being built to the latest crashworthiness standards, both leading cars were virtually destroyed.
Equipped with colourlight signals and PZB automatic train protection, the Mangfalltalbahn is controlled by DB Netz from a relay signalbox at Bad Aibling. Passenger services are operated by Transdev subsidiary Bayrische Oberland Bahn under the Meridian brand.
BOB said one train had a trainee driver and an instructor in the cab, while the other driver had been accompanied by a colleague from another operator; at least three of them were among the fatalities.
The two trains had been timetabled to pass at Kolbermoor, but it is understood that train 79505 was running late. While the exact sequence of events is still being determined, the prosecutors said there was 'no evidence of a technical failure', but that 'a special signal was activated that shouldn't have been'. Reports indicate that one of the trains may have been authorised to pass two red signals using a subsidiary 'Ersatz' aspect, which is provided to authorise trains to proceed at restricted speed in the event of a technical failure.
Giese confirmed on February 16 that 'had the dispatcher acted in accordance with the rules, as bound by his duty, the accident would not have happened'. Prosecutor Jürgen Branz added that the dispatcher had realised his mistake and issued a distress call, but this was not heeded. The prosecutors have opened an involuntary manslaughter investigation.