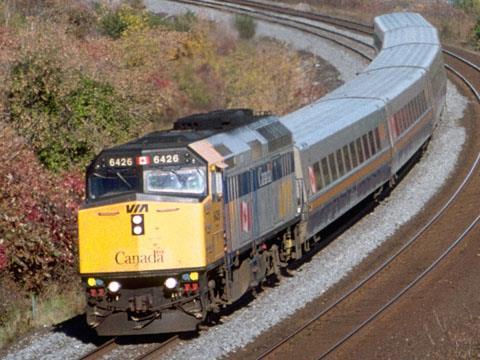 CANADA: Industrial Rail Services Inc has been awarded contracts for the overhaul of VIA Rail Canada's 98 LRC coaches and accessibility improvements to 12 Renaissance cars. The work will be undertaken at IRSI's plant in Moncton, New Brunswick, supported through the government's Economic Action Plan to create skilled jobs and stimulate the economy.
A C$98·9m contract covers upgrading the Light Rapid & Comfortable fleet introduced on Québec - Windsor services from 1981.
Although designed for 20-year life, they remain structurally sound and the overhaul will provide a further 20 years of service. VIA Rail said no suitable replacement inter-city vehicle is available for purchase, and a new design 'would take up to four years, require extensive testing and debugging, and cost about C$4-5m per car.'
The overhaul will cut the cars' energy use by 20%, with the installation of LED lighting, nickel cadmium batteries, replacement of obsolete electrical equipment and the fitting of 'smart' heating and air-conditioning incorporating water-based cleaning.
The seats will be reupholstered, with leather in the 26 business class cars. Accessible toilets will be fitted to 26 cars, along with flip-up arm rests for easier access and tactile seat numbers for the visually impaired. The cars will be returned to service from May 2010 to December 2013.
A further C$5·8m contract covers work on 21 of the 106 Renaissance coaches used on Québec - Toronto and Montréal - Halifax services.
Nine economy class cars will have seven seats removed to create an accessible toilet, and nine baggage cars will get larger mid-car doors for more efficient luggage handling. Three sleeping cars for overnight Ocean services will have two cabins combined and re-oriented to eliminate a 90° turn currently required to gain access. The modified coaches will be returned to VIA Rail between December 2009 and December 2011.
In April CADRI delivered the first of 53 F-40 locomotives which the Global Railway Industries subsidiary is modernising for VIA Rail. A second is due to be returned to VIA Rail by the end of May, with nine to be completed this year.