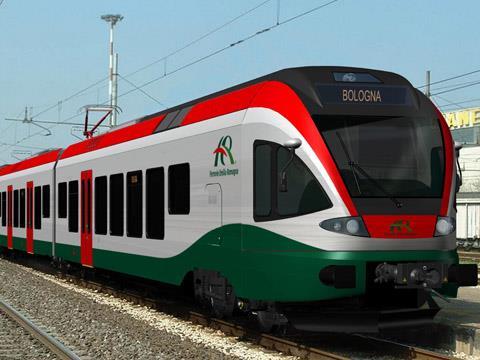 ITALY: Two regional operators which co-operated to issue a joint invitation to tender in January have chosen a consortium of Stadler and AnsaldoBreda to supply a total of 34 multiple-units.
The €200m order from Sistemi Territoriali of Veneto and Ferrovie Emilia Romagna was announced on November 6. It covers 32 FLIRT 3 kV electric multiple-units with a top speed of 160 km/h, plus two 140 km/h GTW diesel-electric units. Options are available for a further 20 FLIRTs and two GTWs.
The electric units will be built by a partnership of the two suppliers under which Stadler will be responsible for the driving cars, traction equipment and bogies, while AnsaldoBreda's Pistoia site will produce the intermediate cars and be responsible for final assembly and commissioning.
Stadler said it is the first joint project between the two companies, and it hopes this will form the basis for future strategic co-operation.
Operator
Type
Units
Cars/unit
Total passenger capacity
Sistemi Territoriali
Flirt
4
6
750
Flirt
16
4
450
GTW
2
4
450
Ferrovie Emilia Romagna
Flirt
12
5
550