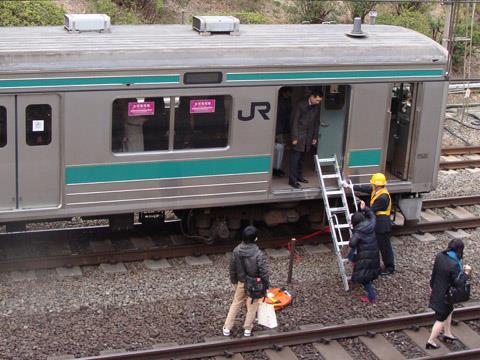 JAPAN: Thanking railwaymen and women from around the world for their messages of condolence and encouragement, on March 14 East Japan Railway Vice-Chairman Yoshio Ishida and President & CEO Satoshi Seino gave an update on the effects of the disastrous March 11 earthquake and tsunami.
JR East understands that no customers or employees were casualties of the disaster. Three regional trains were washed off the track, but the passengers had been successfully evacuated. However there are fears that off-duty staff and their families may not have survived.
Following checks, JR East was ready to resume normal services in the Tokyo Metropolitan Area on the morning of March 14, but several nuclear and thermal power plants were heavily damaged and the resulting power shortages led to the reduction or suspension of services.
It is not known when the shortages will be over, but JR East has a thermal and a hydro power plant of its own, and through careful management of power requirements expects to be able to increase the number of services operated.
Train services have mostly resumed in the western part of northern Japan, however there is 'absolutely no way' for JR East to predict when Shinkansen and conventional services will be able to be resumed on the Pacific Coast which bore the brunt of the damage.
Destruction of the Senseki line has forced JR East to put on hold its plans to switch the route to the ATACS moving block signalling system which was described in the March 2011 issue of Railway Gazette International.