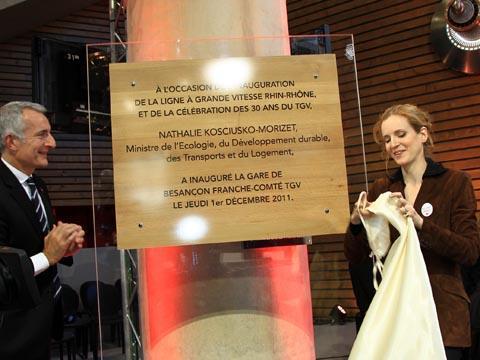 FRANCE: The first section of LGV Rhin-Rhône entered service with the timetable change on December 11. The 140 km route between Villiers-les-Pots and Petit-Croix is France's first inter-regional high speed line (RG 10.11 p7).
The stations at Besançon Franche-Comté TGV and Belfort-Montbéliard TGV had been officially opened by Minister for Ecology, Sustainable Development, Transport & Housing Nathalie Kosciusko-Morizet on December 1.
Funding agreements are now expected to be signed next year for the €1bn required to build the extensions from Villiers-les-Pots to Genlis (15 km) and from Petit-Croix to Lutterbach (35 km), completing the 190 km eastern branch of LGV Rhin-Rhône between Dijon and Mulhouse. This would allow tendering to get underway in 2013 for work to start in 2014.
The launch of TGV Rhin-Rhône, the move to regular-interval services (RG 4.11 p52) and the need to accommodate RFF's major track renewals programme saw 85% of SNCF train timings modified with the December 11 timetable change. Having created a special central control unit to monitor train performance between December 1 and January 15, and deploying an additional 2 000 staff to assist passengers on trains and at stations, the national operator was able to report that 95% of services had been on time during the first working day.