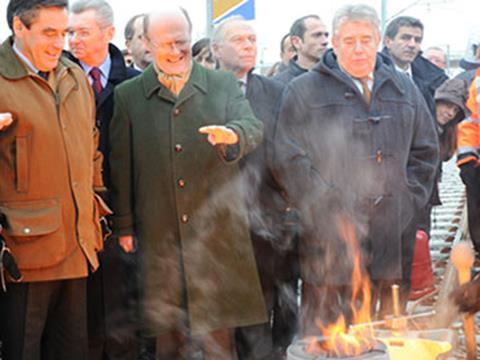 FRANCE: Prime Minister François Fillon marked the completion of tracklaying on the first phase of LGV Rhin-Rhône, with a symbolic final weld ceremony at Villiers-les-Pots on January 31.
He was accompanied by Environment Minister Nathalie Kosciusko-Morizet, Transport Sectretary Thierry Mariani, Minister of Co-operation Henri de Raincourt and Minister for Local Authorities Philippe Richert, as well as RFF President Hubert du Mesnil.
According to RFF, construction of the country's first inter-regional high speed line is now in its final phase, with work on course for commercial operation to begin on December 11. The next few months will see comprehensive testing of the fixed equipment and the start of test running.
Running for 140 km between Petit-Croix near Belfort and Auxonne in Côte-d'Or, the first phase has cost €4·6bn, including environmental protection, a carbon audit and 'supplementary biodiversity measures'. It forms part of the 190 km eastern branch of LGV Rhin-Rhône, which will eventually link Dijon with Mulhouse via Besançon and Belfort-Montbéliard.
No date has been set for construction of the remaining 50 km between Belfort and Mulhouse, although local campaigners hope to see work starting next year. A commission established in 2009 to put together a funding package for this phase has yet to report.