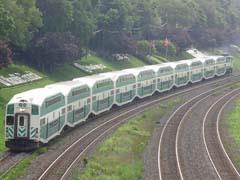 CANADA: Bombardier Transportation announced a C$125m order to supply Greater Toronto transport authority Metrolinx with 50 BiLevel coaches on March 14.
They are to be built at Bombardier's Thunder Bay plant for delivery to Metrolinx subsidiary GO Transit from November 2011, bringing the operator's double-deck fleet to 565 vehicles.
'There is a major demand for GO to increase its train services, from both a customer service and ridership perspective,' said GO Transit President Gary McNeil. 'We need to add new trains and lengthen our existing trains so more BiLevel coaches are required now.'
According to Bombardier, the latest order will include the 1 000th BiLevel car to be manufactured at Thunder Bay. The BiLevel design was developed in co-operation with GO Transit and entered service in 1978, and is now in service in 13 major cities in Canada and the USA.