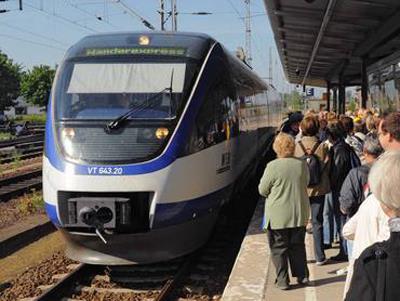 GERMANY: Transport authority VBB confirmed Niederbarnimer Eisenbahn Betriebsgesellschaft mbH as the winner of two contracts for the operation of Netz Ostbrandenburg passenger services east of Berlin on February 12.
Contract 1 starts in December 2014, and covers the operation of 2·16 million train-km/year using Regio-Shuttle RS1 diesel railcars.
Contract 2 starts a year later in December 2015, and covers 2·70 million train-km/year using Talent 1 and Pesa Link diesel multiple-units. Both contracts end at the same time in December 2024.
Final award of the contracts had been delayed by three months while a losing bidder submitted an unsuccessful challeng
Netz Ostbrandenburg operating contracts
Service
Route
Current operator
Contract 1
RB35
Fürstenwalde (Spree) - Bad Saarow
ODEG
RB36
(Berlin -) Königs Wusterhausen - Beeskow - Frankfurt (Oder)
ODEG
RB60
Eberswalde - Frankfurt (Oder)
ODEG
RB61
(Prenzlau -) Angermünde - Schwedt
DB Regio
RB63
Eberswalde - Joachimsthal
ODEG
Contract 2
RB12
Berlin - Templin
DB Regio
RB25
Berlin - Werneuchen
ODEG
RB26
Berlin - Küstrin-Kiez - (Kostrzyn)
NEB
RB54
Berlin - Löwenberg - Rheinsberg
DB Regio