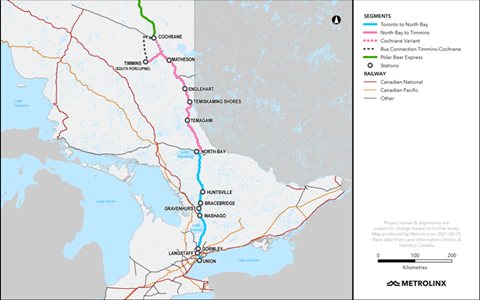 CANADA: The government of Ontario has allocated C$5m to support the development of plans to reintroduce passenger train services running north from Toronto to Timmins or Cochrane.
Ontario Northland's Northlander train service between Toronto and Cochrane ended in 2012; at the time the province said demand for the six trains per week had stagnated at 320 000 journeys a year, and the subsidy of C$400 per passenger was 'no longer affordable'.
Ontario Northland currently operates four buses a day between Toronto and North Bay, and one or two buses daily from North Bay to Timmins and Cochrane.
The proposed train service would be designed to enable passengers coming from the north to travel overnight to maximise their day in Toronto, reducing the need for overnight accommodation in the city. It would operate from four to seven days a week depending on seasonal demand.
Option 6 in the initial business case has been selected for further study. This would serve Toronto Union station, Langstaff, Gormley, Washago, Gravenhurst, Bracebridge, Huntsville, North Bay, Temagami, Temiskaming Shores, Englehart, Matheson and Timmins or Cochrane. A 'seamlessly' integrated bus service would provide connections to communities between the rail stations.
The target completion date for the next stage of the planning work is 2022, which could allow services to start in the mid 2020s.
'We made a commitment to return passenger rail to the north and we are one step closer to fulfilling that commitment', said Vic Fedeli, Minister of Economic Development, Job Creation & Trade, on May 25. 'The planning we're doing today will help to determine the details, and we are confident that the proposed service route would provide the best value and options to support economic opportunities, the tourism industry and access to healthcare, education and other critical services.'