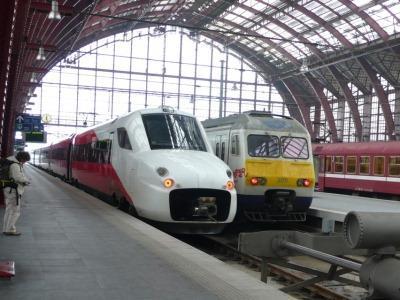 NETHERLANDS: Den Haag's city-owned company The Hague Trains Holding has invited expressions of interest in a two-year contract to operate inter-city services between Den Haag and Brussels.
An OJEU notice was published on March 13, following informal discussions with six potential operators and approval from the Dutch completion authority for the carriage of domestic passengers on the proposed cross-border service.
The new 'Lage LandenLijn' service calling at Delft, Rotterdam, Dordrecht, Roosendaal, Antwerpen, Mechelen and Brussels Airport would start on December 15 2013 and initially run for two years. THTH would apply for train paths and then provide them to the chosen operator, which would be expected to operate the services on a commercial basis. An hourly service of 16 trains/day each way is envisaged.
Bidding documents are available until March 22, with bids due by April 19.
The aftermath of the suspension of Fyra International high speed train services between the Netherlands and Belgium is described in detail in the March 2013 issue of Railway Gazette International.