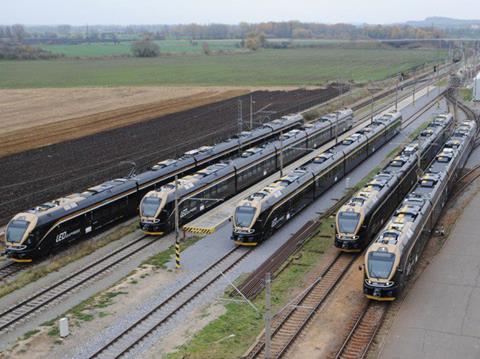 EUROPE: Czech open access operator LEO Express expects to announce the launch date for its planned Praha – Ostrava – Katowice – Kraków open access service in the near future, after Polish regulator UTK completed the certification process and granted train paths on October 13.
Daily services would leave Kraków at 04.44 to arrive in Praha at 11.39, and leave Praha at 16.10 to arrive in Kraków at 23.10.
Approval for the launch was 'news even on a European scale', according to Peter Jančovič, CEO of LEO Express Polska. 'Thanks to the efforts of the EU, there are several commercial carriers operating alongside a state carrier in the markets of individual countries. It involves a lot of new challenges. We are glad that the Polish authorities care about development of international connections and expanding the offer.'
'I am pleased that UTK was able to grant certification for a new railway company', said UTK President Ignacy Góra. 'On-track competition boosts the chance that passengers will obtain better services.'
LEO Express said it plans to establish a 'well-connected cross-border network' of rail, coach and minibus services in Central Europe, as it believes there are 'great opportunities' for the development of international rail services to attract passengers from cars and coaches.
'Poles will join the Swedes, Britons, Czechs, Germans, Slovaks, Austrians and Italians who have been able to benefit from rail competition and the development of passenger rail transport', said Chairman Peter Köhler.