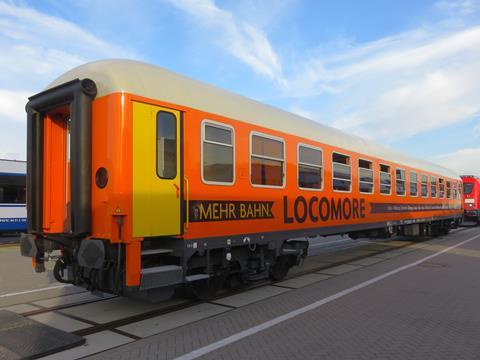 GERMANY: Czech operator LEO Express is to relaunch the Berlin – Stuttgart open access service which was suspended when Locomore began insolvency proceedings, the companies confirmed on August 16. The intention is to offer a Thursday to Sunday service from August 24.
LEO Express told Railway Gazette it had acquired selected Locomore assets including its leased rolling stock and the majority of the staff. Marketing, ticket distribution and customer services will now be undertaken by long-distance coach company FlixBus, Hector Rail will remain the traction provider, and the Locomore brand is to be retained.
Locomore said passengers holding previously-booked tickets would be able to exchange them for travel, while vouchers from the crowd-funding campaign which was used to launch the service can still be used.
'We are convinced that the FlixBus platform will attract the necessary number of customers in order to ensure a sustainable operation of the Locomore routes even at low ticket prices', said FlixBus founder and Managing Director André Schwämmlein. 'At the same time, we benefit from intermodal integration into our long-distance network of new target groups for the Flixbuses.' FlixBus has established FlixTrain GmbH to manage its relationships with rail operators including LEO Express, Austria's Westbahn and Köln transport operator KVB.
Locomore's management will join the Czech company's Germany subsidiary LEO Express GmbH, with Derek Ladewig as Manager for Strategy & Business Development, Katrin Seiler responsible for Finance & HR and Nicolas Dietrich for IT.
Locomore launched services December 2016, with one train each way per day. Patronage had been growing, with 70 000 passengers carried by the time operations were suspended on May 12 when the company's financial reserves had been exhausted and insolvency proceedings began. Locomore's administrators had confirmed in June that talks were being held with two 'very serious prospects' for investing in the business.