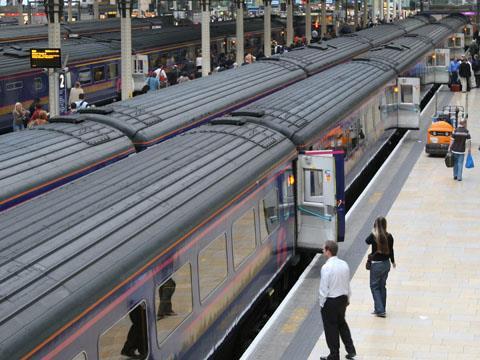 UK: The Department for Transport published the Brown Review of the Rail Franchising Programme on January 10, the second of two independent inquiries launched in the wake of the collapse of the Inter-City West Coast refranchising process in October last year.
Authored by Eurostar Chairman Richard Brown, the report was commissioned by the government to look into the 'wider implications' for rail franchising following DfT's admission that 'significant errors' were made in the ICWC competition. ICWC was intended to be the first of a new generation of longer franchises envisaged under reforms outlined by the government in January 2011.
Brown makes 11 recommendations for change, but he unequivocally rules out any major structural reform of the rail industry. Noting that 'the possibility for tinkering is endless' given the complexity of the franchising process, he insists that 'there is no credible case' for wholesale change, but that 'concerted effort' is required in a 'manageable number of key areas' to sustain the success which Britain's railways have seen in the two decades since the privatisation of British Rail. Brown suggests that passenger numbers have increased by 92% in that period, and he argues that it is 'highly unlikely' this could have been achieved if franchising were 'fundamentally flawed'.
Considerable focus is given to DfT's ability to manage the franchising process. 'The government should be clear about what it is seeking to buy' in a franchise, the bidding process should be simplified to reflect these objectives, and bidding costs should then come down, Brown says. He endorses the findings of previous reports from DfT Non-Executive Director Sam Laidlaw and the National Audit Office that DfT's franchising capability needs to be strengthened 'urgently', accompanied by greater 'scrutiny and accountability' at senior levels.
Among the other recommendations, Brown suggests:
franchise terms should be determined by the individual circumstances of each competition; ideally terms should be between five and 15 years, although break points should be inserted for longer deals;
franchisees should not be responsible for risks they cannot manage, including exogenous macroeconomic factors such as GDP and employment levels;
bids should be 'explicitly scored' for their proposals to improve services for passengers;
the 'specification and oversight of franchises should be managed by authorities that are closest to their communities'. Greater devolution of franchises to Integrated Transport Authorities and other local agencies is therefore endorsed.
Finally, the report urges that the franchising programme be restarted as soon as possible in order to 'maintain momentum' in the search for cost efficiencies, but cautions that DfT should be mindful of the risk of bunching franchising competitions. Brown in particular notes that the hiatus in franchising 'had a very negative impact' on the railway industry supply chain, posing a risk that global suppliers might divert 'funds and resources' for UK projects to other countries.