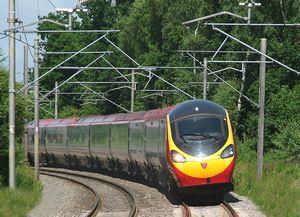 UK: The Department for Transport announced on October 15 that it intended to launch a competition for an interim franchise to operate the Inter-City West Coast franchise, following Transport Secretary Patrick McLoughlin's decision on October 3 to cancel the previous refranchising round due to 'significant technical flaws'.
Open to 'all bidders', the interim franchise would provide more time for the government to reconsider its franchising strategy before another competition is held for a 'new long term West Coast franchise'.
In the meantime, DfT confirmed that it would negotiate with Virgin Rail Group for it to continue operating ICWC for 'between nine and 13 months', until the interim franchise could be awarded. The government believed that retaining Virgin was 'the best way to ensure services are maintained and that there is no impact on passengers.'
With the existing franchise due to expire on December 9, DfT had been looking at options to ensure continuity of service. Although its operating subsidiary Directly Operated Railways had begun to form a West Coast unit, there have been suggestions that insufficient time was available to mobilise a new management team and obtain the necessary regulatory and safety authorisation before the deadline.
McLoughlin said 'the cancellation of the InterCity West Coast franchise is deeply regrettable and I apologise to the bidders involved and the taxpayer who have a right to expect better. My priority now is to fix the problem, and the first step is to take urgent action to ensure that on December 9 services continue to run to the same standard and passengers are not affected. I believe Virgin remaining as operator for a short period of time is the best way to do this and my officials and I will be working flat-out to make this happen.'
Following cancellation of the ICWC franchise award on October 3, DfT paused its whole refranchising programme, 'including live competitions on Essex Thameside, Great Western and Thameslink', and set up two independent reviews. One is examining what went wrong with the ICWC competition. The other, being led by Eurostar Chairman Richard Brown, is to look more widely at the whole franchising programme.