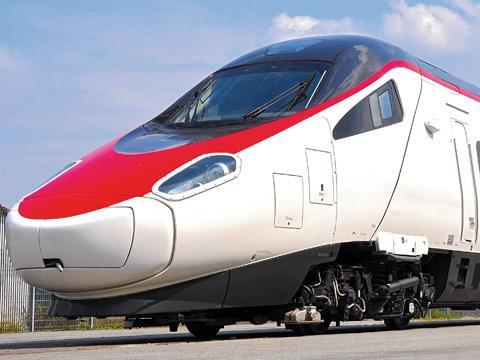 SWITZERLAND: Swiss Federal Railways has placed a firm order for eight more New Pendolino tilting trains, Alstom announced on August 2. They are scheduled to be delivered in 2015, replacing ETR470 trainsets on international services from Genève and Zürich to Milano.
The SFr275m order is an option on a contract for seven ETR610 Cisalpino II trainsets placed by the former Cisalpino joint venture of SBB and Trenitalia in March 2004.
The seven-car trains will have a maximum operating speed of 250 km/h and 8° tilt. They will have a capacity of 430 passengers, and according to Alstom the reclining seats will be aligned with large windows to enable passengers to benefit from natural light and enjoy the scenery.
Attention has been paid to external and internal noise reduction, with an aerodynamic design to cut noise transmitted through the roof, increased noise insulation beneath the body and vibration damping on the wheels.
The trainsets will comply with European TSI standards, and be equipped with Alstom's Atlas ETCS signalling suitable for operation in Switzerland, Italy, Germany and Austria.