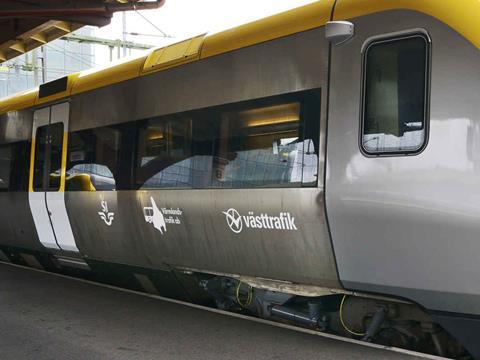 SWEDEN: The Västtrafik, Hallandstrafiken and Länstrafiken transport authorities have awarded national passenger operator SJ a nine-year contract to provide Västtågen commuter and regional services in Göteborg and western Sweden from December 2015 to December 2024. The SKr5bn contract announced on October 14 includes an option for a three-year extension.
The Västtågen contract is one of the largest in Sweden. The commuter services into Göteborg from Alingsås, Kungsbacka and Älvängen carry 9 million passengers/year, while the longer regional routes serving Strömstad, Åmål, Nässjö, Skövde, Borås and Varberg carry 6 million passengers/year. A doubling in ridership is envisaged during the life of the contract.
SJ has operated the services since May 2012, when Västtrafik awarded it a three-year interim contract to replace the DSB Väst subsidiary of Denmark's national operator DSB which wished to withdraw from a contract running to 2018 because it faced annual losses of up to DKr84m.
Västtrafik received four bids for the long-term contract, with SJ 'able to demonstrate the highest quality at the best price.' Payments will be linked to performance and passenger satisfaction. Responsibility for energy costs will be transferred from Västtrafik to the operator to provide an incentive to improve efficiency, and the operator will also be responsible for rail replacement buses when required.