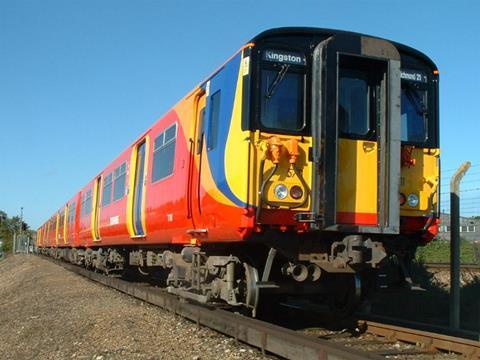 UK: Porterbrook Leasing has awarded Vossloh Kiepe UK a £40m contract to supply solid-state inverters and AC traction motors to replace electro-mechanical control equipment and DC motors on the 91 Class 455 electric multiple-units operated by South West Trains on the 750 V DC third rail network serving London Waterloo.
The modernised inner-suburban EMUs are expected to enter service between late 2014 and February 2016.
Announcing the contract on April 15, Porterbrook said that although fitting new traction equipment to other classes of ex-British Rail EMUs is currently at the prototype stage, it believes there is a sound business case for the Class 455 fleet which dates from the 1980s 'because of identifiable benefits and a belief that these trains will continue to provide a quality service for some years to come'.
The new AC traction equipment would have lower maintenance costs than the existing equipment, and would be suitable for regenerative braking which is expected to produce a saving in electricity costs in excess of 20%. The distance between routine servicing is expected to increase by 50% from 10 000 miles (16 100 km) to 15 000 miles (24 100 km), enabling SWT to expand its fleet without needing to build a new depot; SWT is to take on former Gatwick Express Class 460 cars, and Class 456 EMUs currently operated by Southern.
Porterbrook said it is also looking at the possibility of undertaking similar repowering of its 86 Class 319 EMUs currently operated by First Capital Connect on Thameslink services.