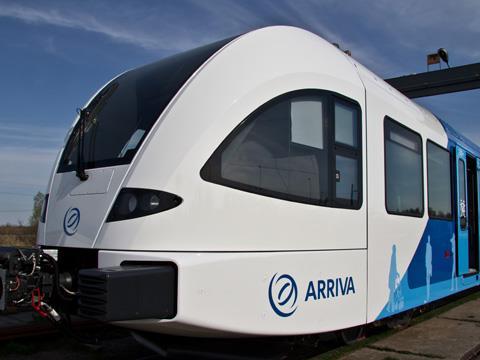 NETHERLANDS: The first of 14 Stadler GTW electric multiple-units ordered by Arriva Nederland for use on Vechtdal Lines services was rolled out by the Swiss manufacturer on June 12.
Arriva Nederland placed a €140m order for 38 diesel and electric units in June 2010, taking the total number of GTWs it has ordered to 99.
The six two-car and eight three-car EMUs are a development of the vehicles previously supplied. The aluminium-bodied units are 75% low-floor, and comply with the Persons with Reduced Mobility TSI standards. They are air-conditioned, and feature wireless internet access, five TFT screens in each car, and 'business' and 'quiet' zones. Up to four units can operate in multiple.
The 24 diesel-electric multiple-units will have a new traction package from Deutz complying with EU stage IIIB emission standards. These are to be used on Rivierenland Achterhoek services in Gelderland, and the first was rolled out on May 10.
In May 2010 the provinces of Overijssel and Drenthe and the region of Twente jointly selected Arriva to operate regional passenger services on the Vechtdal Lines. Arriva is to take over the Zwolle - Mariënberg - Emmen route from national operator NS this December, and will take over the connecting Mariënberg - Almelo line from Connexxion in 2013. The contract runs to 2027.