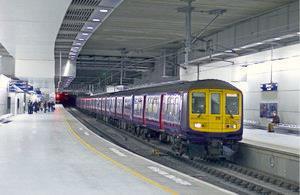 UK: The Department for Transport announced on April 9 that it has begun the procurement of between 900 and 1 300 dual-voltage EMU cars as part of the £5·5bn Thameslink Programme to upgrade north-south commuter routes through London (RG 3.08 p172).
Transport Secretary Ruth Kelly said approximately 1 100 cars will be acquired, worth around £1·4bn. The current fleet of approximately 720 cars will be replaced and increased by 380 vehicles, allowing maximum train lengths to be increased from eight to 12 cars by spring 2012. The existing rolling stock will be released for use elsewhere.
DfT is initiating the negotiated procurement procedure on behalf of the train operating company running the Thameslink/Great Northern franchise, with the contract is 'likely' to be entered into by the TOC. The current operator is First Capital Connect, part of FirstGroup, but its franchise expires before the Thameslink Programme is due to be completed.
DfT anticipates that a contract will be awarded in mid-2009, a train will be available for testing in autumn 2011, and the first trains will enter passenger service by February 1 2012. The entire fleet will be running in December 2015.
A particular concern is the reliability and performance required from the 25 kV 50 Hz/750 V DC EMUs to provide a service of 24 trains/h through central London. DfT has concluded that while it may be feasible to improve the performance levels of existing train designs, 'this would not be a cost-effective solution', and 'the inability of existing designs to deliver the overall operational needs leads to the conclusion that despite the cost a fleet of new-design trains is required.'
It is DfT's intention that the chosen bidder will arrange financing. The supplier will also be responsible for maintenance for seven to 10 years, but DfT has not yet decided whether the provision of depots will be included within the rolling stock contract.
Thameslink rolling stock procurement timetable

Return of expressions of interest
June 9 2008
Select accredited bidders
summer 2008
Invitations to tender
autumn 2008
Proposals received
winter 2008/09
Contract award
summer 2009
First trains in service
February 2012
Introduction complete
December 2015