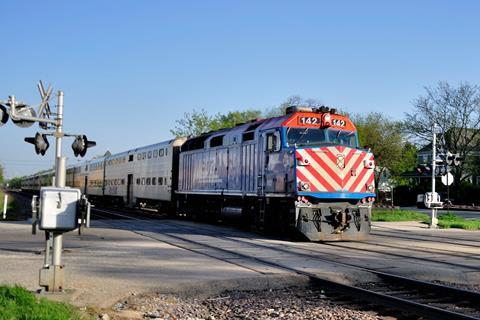 USA: Chicago transport agency Metra is to take over the operation of three commuter rail services which are currently run on its behalf by infrastructure owner Union Pacific.
Metra owns the region's commuter rail fleet and specifies the services on its 11 routes. Seven of these are directly operated in-house by Northeast Illinois Regional Commuter Rail Corp while four routes are contracted to Class I freight railroads UP and BNSF under purchase-of-service agreements.
Under the changes announced on March 30, Metra will take over the former Chicago & North Western services now branded as the UP West, UP Northwest and UP North routes. NIRC will become responsible for train crewing, cleaning and maintenance, ticket sales and some engineering. UP will continue to maintain the track and manage train movements.
Several management employees have already transferred from UP to Metra in early 2023. Mechanical and operating staff are to follow in Q3 2023, and the process is expected to be completed by the end of Q1 2024.