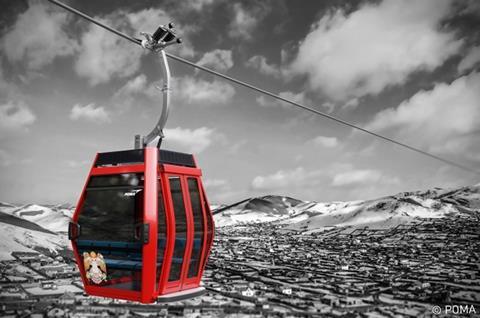 MONGOLIA: A consortium of French aerial transport specialist Poma and rail consultancy Egis is to build an urban cable car route in Ulaanbaatar.
Serving three stations over a 6 km alignment, the cable car scheme is being financed by DG Trésor, a directorate of the French finance ministry which funds infrastructure projects internationally.
Poma is leading the consortium, and will supply and install the transport systems, including 122 cars, supporting towers and station equipment.
Egis will be responsible for the design and construction of the stations and their foundations under a turnkey arrangement, as well as for low and high voltage power supplies. Egis is also tasked with co-ordination of drawings during the design phase and works supervision during construction.
The ropeway is described by the project partners as a highly sustainable form of urban transport, offering 'near silent' operation and no emissions at the point of use. The technology has been selected because of the pressing need to improve local transport in the Mongolian capital; the city's population has grown from 580 000 in 1990 to 1∙5 million today.
The city also has a number of significant physical features including the trans-Mongolian railway and the Tuul-Gol river, which makes aerial transport an attractive option, and the partners believe that a cableway can be delivered in a shorter timeframe than other options.
Most of the city's expansion has been driven by internal migration of nomads from the remote steppe to the edge of the capital, where they have established semi-urban settlements formed of yurts, known locally as gers. While for many years these communities were regarded as temporary, the city authorities have now decided that access to and from them must be enhanced. The cableway will link the northern ger district with the city centre.
'Our unique know-how will be harnessed to deliver this transformational project for the city of Ulaanbaatar', commented Fabien Felli, Commercial Director at Poma. 'Our cable transport solution is a perfect fit with the principle of reducing environmental impact and substantially enhancing urban mobility in Ulaanbaatar and its outskirts. This is a project that makes sense for the development of this capital city and its suburbs, in the same way as has previously been achieved in Latin America and with our projects currently underway in France, in Toulouse and soon in Grenoble.'