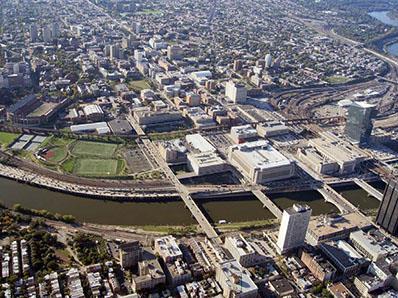 USA: A consortium led by architects Skidmore, Owings & Merrell has been selected to work up development proposals for Amtrak's 30th Street station in Philadelphia.
To be completed within two years, the joint master plan has been commissioned by Amtrak, for whom the station is a significant driver of Northeast Corridor ridership, Drexel University, which has a campus adjacent to the station, and property company Brandywine Realty Trust.
The master plan is intended to outline a 'single integrated vision' for the station and its immediate surroundings, which would create a 'dynamic urban neighbourhood' with a rail hub at its heart. As well as serving long-distance trains, 30th Street is served by SEPTA's commuter rail network, Market-Frankford subway line and light rail services. In addition to promoting opportunities for retail and residential development, the study consortium is also to assess the opportunity for selling air rights above 34 ha of sidings around the station.
Parsons Brinckerhoff, OLIN and HR&A Advisors also form part of the study consortium, while Amtrak, SEPTA and CSX Corp are represented on a Co-ordinating Committee which will guide the consortium's work. The master plan is being funded by Drexel University 'and partners', Amtrak says.