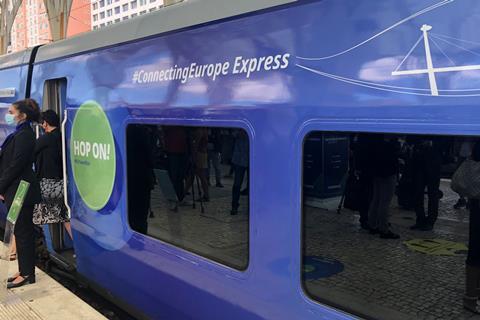 EUROPE: The Connecting Europe Express organised to celebrate the European Year of Rail set off from Lisboa Oriente station on September 2, marking the start of a five-week journey through 26 countries which will include more than 100 stops before reaching Paris on October 7.
The Connecting Europe Express is the result of co-operation between 40 organisations including the European Commission, the Community of European Railway & Infrastructure Companies, train operators, infrastructure managers and other partners at EU and local level.
Events are planned to welcome the train at stations across Europe, with Shift2Rail highlighting the latest developments in an innovation coach, and onboard conferences on EU infrastructure policy and the role of the Trans-European Transport Network to be livestreamed from Lisboa, București, Berlin and Bettembourg.
Railway company CEOs will welcome the train at CER annual general meeting to be hosted by Polish national railway PKP in Gdańsk.
Members of the European Parliament and representatives of Erasmus by Rail have been invited to an event in Strasbourg organised in collaboration with SNCF which will focus on youth, rail and sustainability.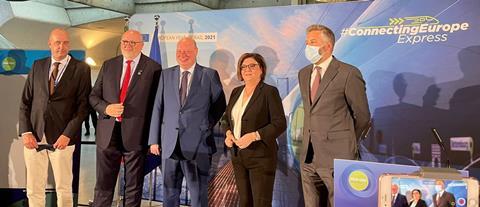 'Rail has shaped our rich, common history', said European Commissioner for Transport Adina Vălean. 'But, rail is also Europe's future, our route to mitigating climate change and powering economic recovery from the pandemic, as we build a carbon-neutral transport sector.
'Over the coming weeks, the Connecting Europe Express will become a rolling conference, laboratory and forum for public debate on how to make rail the transport mode of choice for passengers and businesses alike.'
Three trains
The route of the Connecting Europe Express takes in 26 countries, including non-EU Switzerland, Serbia and North Macedonia. Malta and Cyprus have no railways, and the train will not visit Ireland or Finland, however the organisers said they were 'not forgotten'.
😍🚊 #ConnectingEurope Xpress@EU_Commission @Transport_EU @CER_railways pic.twitter.com/LXgdjuDCMY

— CINEA🇪🇺 (@cinea_eu) September 2, 2021
Separate rolling stock will be used on the three gauges involved.
The 1 668 mm gauge Talgo trainset travelling between Portugal and Spain has been provided by Spanish operator Renfe. 'With decades-long experience in cross-border interoperability, it is appropriate to use a Talgo train in a journey to promote greater rail integration in the EU', the manufacturer said.
The 1 435 mm standard gauge train will include a conference coach provided by France's SNCF, two seating coaches from Germany's DB and Swiss Federal Railways, a dining car from Italy's FS, and a sleeping car from Austrian Federal Railways. A coach supplied by Hungary's MÁV will host a mobile exhibition organised by the European Climate, Infrastructure & Environment Executive Agency and the Shift2Rail Joint Undertaking to showcase rail innovations and EU support for infrastructure projects.
Lithuania's LTG will provide the train for the 1 520 mm gauge lines in the Baltic States.
CER Chair and CEO of Austrian Federal Railways Andreas Matthä said the need for three sets of rolling stock would help to raise awareness of the issues involved in operating international rail services.
'The Connecting Europe Express is impressive proof of the success of the European Year of Rail, at the same time it points out our joint challenges ahead', he said.
'Currently there are too many technical barriers in cross-border rail transport and it is very complex to run a train across national borders in Europe. We need to continue to shift freight from road to rail, provide efficient services for daily commuters and expand international long-distance passenger rail transport with day and night services. I am convinced that the Connecting Europe Express will raise awareness of these challenges'.
The European Transport Workers' Federation called on European leaders to commit to investment in 'quality jobs and rail infrastructure', including retaining onboard staff.
Websites
We are not responsible for the content of external sites