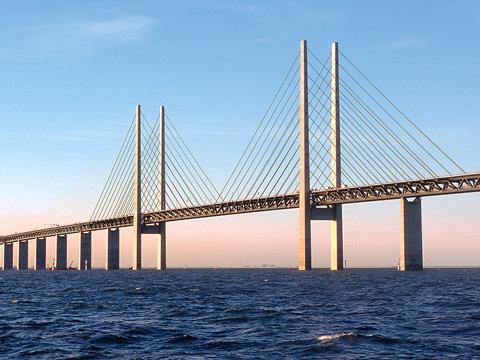 EUROPE: Identity checks for rail passengers travelling across the Øresund fixed link between Denmark and Sweden are to be simplified with effect from January 30, Danish national operator DSB has announced.
In response to the European migrant crisis, with effect from January 4 2016 the Swedish government brought in a requirement for passengers arriving in the country to have official photo ID. Identity checks for long-distance trains take place before boarding in København H station, with passengers asked to arrive 30 min before departure. Passengers on commuter and regional services are required to disembark at København airport station for identify checks in Terminal 3, before boarding another train on a different platform. This adds around 20 min to journeys on a route which carries significant daily commuter traffic.
The new procedures will enable passengers being checked to use the same platform, which is expected to reduce delays and enable more trains to be operated; a service from København H to the airport is planned to run every 10 min once the new procedures are running smoothly. DSB's IC Bornholm service will also resume calling at the airport from January 30.
Passenger numbers across the Øresund in 2016 were down 12% on the previous year. DSB says the ID checks also had direct cost of DKr70m during the year, of which Swedish transport authority Skånetrafiken will pay half.
There have been about 27 cases of passengers with missing or faulty ID reaching Sweden, with DSB assigned a penalty SKr10 000 in one case, a decision which it has objected to.
There are no ID checks when travelling from Sweden to Denmark.